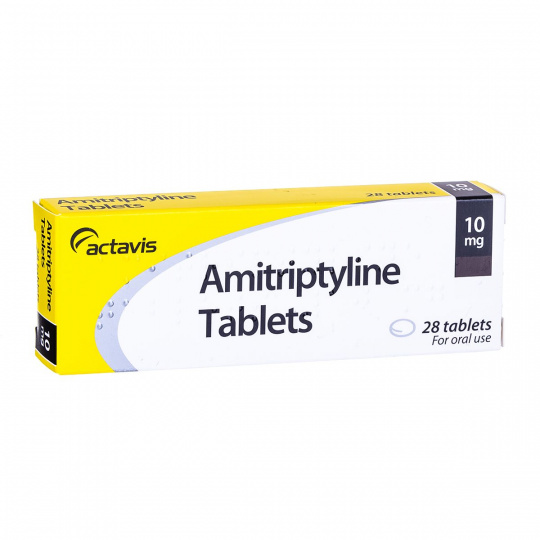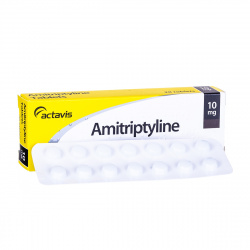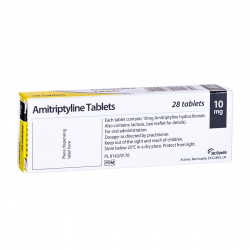 Images for illustrative purposes only
Prevents migraines
Tricyclic antidepressant medicine
Effective treatment for regular migraine sufferers
Genuine medication
All drugs sourced in the UK
Amitriptyline belongs to a class of medications known as tricyclic antidepressants. As well as being efficient in treating mood and pain conditions (such as depression or arthritis), it can also be used as a prophylactic (preventative) in migraine sufferers.
to receive your order tomorrow, 5th March
All inclusive service

No hidden fees

Free Tracked Delivery

Delivered in plain packaging

Prescription included

Via our online consultation
Quick & Easy

No appointment or long waiting times

Discreet Packaging

Plain packaging with no medical stamps or marks

Confidential Service

Your information stays with us and private payment

UK Medication

Dispensed by registered UK pharmacists
What is Amitriptyline?
Amitriptyline is used for the treatment of mental or mood problems such as depression. This medicine may help improve feelings of well-being and mood, relieve tension and anxiety. Help you sleep better, and increase your energy level. Amitriptyline belongs to a class of medications known as tricyclic antidepressants.
How does Amitriptyline work?
Amitriptyline belongs to a class of medications known as tricyclic antidepressants. It works on the central nervous system to increase certain chemicals in the brain, which improves depression.
What are the benefits of using Amitriptyline?
The main benefit of using Amitriptyline is the improvement it brings to the mood and feelings of well-being. It effectively relieves tension and anxiety. Amitriptyline helps you sleep better and increase your energy level.
How do I use Amitriptyline?
Strictly follow the instructions of your doctor on how to use this medication. It will also help if you will read first the Patient Information Leaflet that comes with the medication package before you start using the product. If you have any questions, consult your doctor or pharmacist.
Take Amitriptyline orally, usually one to four times daily or as directed by your doctor. If you will take this medication only once daily, take it at bedtime to help reduce daytime sleepiness. The dosage of this medication was prescribed to you based on your medical condition and your response to the treatment.
Your doctor may ask you to start this medication at a low dose and gradually increase it in order to reduce your risk of side effects such as dizziness, drowsiness, or dry mouth.
You can get the most benefit from this medication if you will take it on a regular basis. It will help you remember your doses if you will take them at about the same time each day.
Do not increase your dose or use this medicine more often or for longer than what is prescribed by your doctor. Your condition will not improve any faster by increasing the dose or taking it longer. You will increase your risk of side effects.
Continue taking this medication even if you start feeling well. Do not stop taking this medication without first consulting your doctor. Some conditions may worsen when you suddenly stop taking this medicine. You may experience symptoms such as a headache, mood swings, sleep change, and tiredness. To prevent these symptoms while you are stopping treatment with this medicine, your doctor may reduce your dose gradually. Report to your doctor any new or worsening symptoms right away.
Amitriptyline may not work immediately. You can expect some benefit within a week. It may take up to 4 weeks before you feel the full effect of this medicine.
Report to your doctor when your condition gets worse or persists such as your feelings of sadness getting worse, or having suicidal thoughts.
| Buy Antidepressants UK | Antidepressants Online |
| --- | --- |
| Amitryptyline 10mg | Amitryptyline for Sleep |
| Anti Anxiety Medication UK | Amitryptyline for Nerve Pain |
Amitriptyline dosage
Usual dosage of Amitriptyline for depression:
For adults between the ages of 18 and 64:
Starting dose - 75 mg per day, usually in divided doses.
Dosage increases - your doctor will slowly increase your dosage if necessary.
Maximum dosage - 15o mg per day
Alternative dosage regimen - Start with 50 to 100 mg at bedtime, to be increased by 25 or mg as needed in the bedtime dose, for a total of 150 mg per day.
Child dosage between the ages 0 to 17:
It has not been confirmed that this medication is safe and effective for use in children younger than 17 years.
Senior dosage at ages 65 years and older:
The kidneys of older adults may not work as well as they used to. This could result in the body processing drugs more slowly, with more of a drug staying in your body for a longer time. This raises your risk of side effects. Your doctor may lower your dose or give you a different dosing schedule. This will prevent this drug from building up in your body.
Side effects & precautions
Amitriptyline can cause drowsiness and dizziness during the first few hours of taking it. If you notice drowsiness while you take this drug, your doctor may ask you to take the dose at bedtime.
This medication can cause other side effects.
The following are the more common side effects of amitriptyline:
A headache
Numbness and tingling in the arms and legs
Confusion
Blurred vision
Constipation or diarrhoea
Skin rash
Nausea
Swelling of your face and tongue
Unexpected weight gain or loss
If these effects are mild, they may go away within a few days or a couple of weeks. If they are more severe or don't go away, talk to your doctor.
The following are the serious side effects of Amitriptyline:
Call your doctor immediately if you have serious side effects. Call emergency medical services if you feel the symptoms are life-threatening or if you think you are having a medical emergency.
Serious side effects can include the following:
Heart attack. The symptoms include:
Chest pain
Pain or pressure in the chest or upper body
Shortness of breath
Stroke. The symptoms include
Slurred speech
Weakness in one part or side of the body
Before you start taking this medication, tell your doctor if you are allergic to it, or to other tricyclic antidepressants, or if you any other allergies. This product may contain inactive ingredients can trigger an allergic reaction or other problems.
Share with your doctor your medical history before you start using this medication, especially of breathing problems, bleeding problems, liver problems, prostate problems, recent heart attack, overactive thyroid, family history of glaucoma, family history of mental or mood conditions, family history of seizures or suicides, and conditions that may increase your risk of seizures.
This medicine may make you drowsy or dizzy, or blur your vision. Alcohol consumption and marijuana use may make you more drowsy or dizzy. Do not perform any activity that requires you to be alert or have a clear vision until you are sure that you can do it safely. Avoid consuming alcoholic beverages. Discuss with your doctor your marijuana use.
This medication can make you more sensitive to the sun. Limit your time in the sun and avoid tanning booths and sunlamps. Use sunscreen and wear protective clothing when going outdoors.
If you have diabetes, this medicine may make it harder to control your blood sugar levels. Monitor your blood sugar regularly and report to your doctor the results.
During pregnancy, Amitriptyline should be prescribed only when clearly needed. Discuss the benefits and risk with your doctor.
This medication passes into breast milk. Its effects on a nursing infant are unknown. Consult your doctor before you breastfeed.
Drug interactions may alter how your medications work or increase the risk of serious side effects. Share with your doctor a list of all medications you are currently taking. Do not start, stop, or change the dosage of any medicines without getting first the approval of your doctor.
Your doctor shall determine if Amitriptyline can interact with any of the medications you are currently taking.
How do I buy Amitriptyline online?
You can safely buy Amitriptyline online at UK Meds. You will first need to have an online consultation with a pharmacist independent prescriber before your order will be supplied. The online consultation will ensure that Amitriptyline is the right medication for your medical condition.
If you are suffering from anxiety, there are a number of drugs which can be helpful. One such drug which is often prescribed to treat anxiety is Propranolol. You can buy Propranolol from UK Meds if your doctor has prescribed it for the treatment of anxiety.
Here to help you
Our Customer Service is available Monday to Friday 9am - 4pm. If you need urgent assistance, do not use this service. Call 111, or in an emergency call 999. Visit our help section