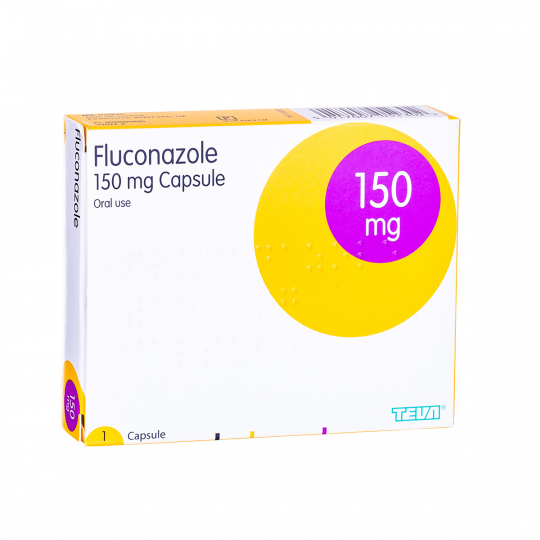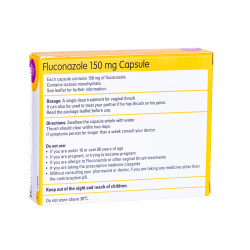 Images for illustrative purposes only
Single dose capsule
Clears thrush quickly
Suitable for men and women
Genuine medication
All drugs sourced in the UK
Fluconazole is used to treat the fungus infection, thrush. Thrush is a common yeast infection in women, but can also affect men.
to receive your order Wednesday 15th July
All inclusive service

No hidden fees

Tracked Delivery

Delivered in plain packaging

Next Day Delivery

Receive your order in 24 hours
Quick & Easy

No appointment or long waiting times

Discreet Packaging

Plain packaging with no medical stamps or marks

Confidential Service

Your information stays with us and private payment

UK Medication

Dispensed by registered UK pharmacists
What is Fluconazole?
Fluconazole is used to treat a fungus infection called thrush. Thrush is a common yeast infection in women that shows itself through itching of the vagina and surrounding area, redness and swelling, soreness and a white non-smelling vaginal discharge.
It's an infection that can be aggravated by sexual intercourse, although it is not a sexually transmitted disease. However, it can sometimes be passed to your partner and this is known as penile thrush (for which Fluconazole can treat).
How does Fluconazole work?
Fluconazole works to treat thrush as it is an antifungal medication. It stops the growth of the yeast known as Candida and helps to restore the natural health of your genitals.
What are the benefits of taking Fluconazole?
Thrush can be an uncomfortable and unpleasant infection that can cause pain and irritation when left untreated. Taking Fluconazole to clear it up is a quick and simple solution and allows you to return to a healthy state where sex and daily life are much better.
How do I use Fluconazole?
Fluconazole is an over-the-counter product that does not require a prescription, meaning you can buy it online easily. It's an oral medication that should be swallowed whole, with water.
Alongside taking the Fluconazole, there are a number of lifestyle aspects to helping to clear thrush (and staying clear of it). Wear cotton underwear, avoid very hot, heavily perfumed baths and wash daily to maintain health.
Fluconazole dosage
The standard capsules are a 150mg dosage of Fluconazole and the packs contain only a single capsule. One dose should be enough to clear thrush within 7 days, but if it doesn't then you should contact your doctor. You should also contact your doctor if you take above the standard dose, or if your symptoms worsen or have still not gone after 7 days.
If symptoms clear up but then return after 7 days, you can take another capsule (provided you didn't have a negative or allergic reaction the first time). However, if you have more than two separate counts of thrush in six months then you should contact your doctor.
Side effects & precautions
Fluconazole is suitable for men and women aged between 16 and 60, who are not pregnant or breastfeeding. It is not suitable for the following people:
Those who are allergic to any of the ingredients or any other anti-fungal medicine

Those who are suffering from Tinea Capitis (fungal infection of the scalp)

Those who have an intolerance to some sugars (this medicine contains lactose)
It's also not suitable for anyone taking any of the following medications:
Terfenadine or astemizole (for allergy)

Pimozide (for mental health conditions)

Cisapride (for stomach problems)

Quinidine (for heart rhythm problems)

Erythromycin (for bacterial infections)

Halofantrine (for treatment of malaria)

Amiodarone (for rhythm disorders)
If you feel that you need treatment for thrush but any of the following applies to you, then talk to your doctor or pharmacist before taking Fluconazole:
If you have had thrush more than twice in the last 6 months

If you are under 16 years, or 61 years or older

If you or your partner have been exposed to a sexually transmitted disease

If you have liver disease, or have had unexplained jaundice (yellowing of the skin and eyes)

If you have kidney problems

If you have heart problems, or low levels of potassium, magnesium or calcium in your blood

If you have AIDS

If you have any other long-term illness, or receive regular treatment from your doctor

If you are unsure about the cause of your symptoms

If you are taking any other medications

If you are a man and either your partner does not have thrush, you have pain on passing urine, you have sores, ulcers or blisters on your penis or you have an abnormal discharge or smell

If you are a woman and either you have lower stomach pain or pain on passing urine, you have abnormal bleeding or blood-stained discharge or you have sores or ulcers on your vagina.
All medicines affect individual users differently, so while most users notice no side effects, some may experience the following:
Feeling sick or being sick, heartburn, abdominal pain, diarrhoea, constipation, wind, dry mouth, taste disturbances, loss of appetite

Difficulty sleeping or difficulty getting to sleep

Headache, feeling dizzy or unsteady on your feet, pins and needles, pain in the muscles, weakness or loss of strength, general feeling of tiredness or being unwell, shaking

Red, raised itchy skin rash, or a rash with eruptions of pus

Increased sweating, rarely hair loss

Low levels of potassium, rarely increased cholesterol or blood fat levels
If you do experience one or more of these side effects then inform your doctor or pharmacist right away.
How do I buy Fluconazole online?
You can safely buy Fluconazole online at UK Meds, without the need for a prescription or consultation with a medical professional, however, you should adhere to the advice given in the patient leaflet enclosed.
Here to help you
Our Customer Service is available Monday to Friday 9am - 4pm. If you need urgent assistance, do not use this service. Call 111, or in an emergency call 999. Visit our help section