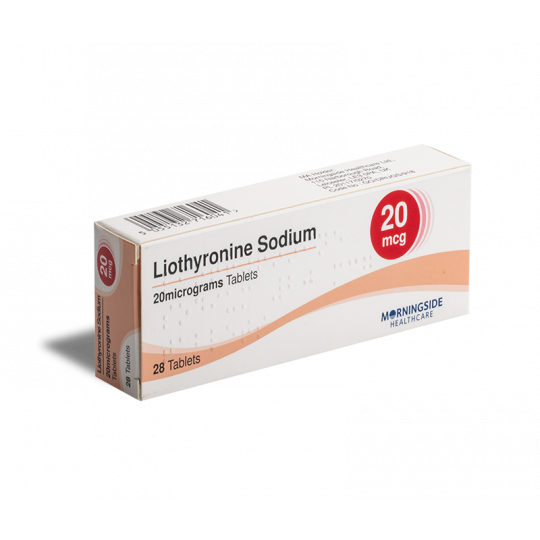 Images for illustrative purposes only
Contains a synthetic version of a thyroid hormone
Effective for treating hypothyroidism
Suitable for those who can't have Levothyroxine
Genuine medication
All drugs sourced in the UK
Liothyronine is an effective medication, used to treat hypothyroidism (underactive thyroid). The thyroid gland produces hormones to control growth and energy levels, but those with an underactive thyroid do not produce the necessary amount. Liothyronine is used to replenish this.
to receive your order tomorrow, 15th July
All inclusive service

No hidden fees

Free Tracked Delivery

Delivered in plain packaging

Prescription included

Via our online consultation
Quick & Easy

No appointment or long waiting times

Discreet Packaging

Plain packaging with no medical stamps or marks

Confidential Service

Your information stays with us and private payment

UK Medication

Dispensed by registered UK pharmacists
What is Liothyronine?
Liothyronine is a medication used in the treatment of hypothyroidism, also known as an underactive thyroid, which replenishes the level of hormones that your body doesn't naturally create.
How does Liothyronine work?
Liothyronine is a synthetic version of the hormone that healthy thyroid glands produce. For people who suffer with an underactive thyroid, the gland is not producing enough and Liothyronine therefore boosts this level.
What are the benefits of taking Liothyronine?
Sufferers of an underactive thyroid may not notice straight away, as symptoms rarely present themselves immediately. However, in the long term, hypothyroidism can lead to weight gain, tiredness and depression.
Taking Liothyronine increases the level of thyroxine hormones in your body, which prevents the symptoms of an underactive thyroid.
How do I use Liothyronine?
Liothyronine is a prescription-only medication. Always follow the advice of your doctor and read the patient information leaflet provided in the medication packet. 
Swallow the tablets with plenty of water, ideally before breakfast (or your first meal of the day). You may be taking this medicine for the rest of your life so it's important that you understand how to take it properly.
Liothyronine dosage
The standard Liothyronine tablets come in 3 strengths of 5mcg, 10mcg and 20mcg.
You doctor will decide on your starting dose based on the results of your blood test. This can range from 10 micrograms to 60 micrograms per day, which can be made up in a number of ways. 
If you forget a dose then you should take it as soon as possible after you remember. However, if it's nearly time for your next dose then skip the forgotten one and move onto your next one. Do not take a double dose to make up for a missed one.
If you take more Liothyronine tablets than you should then contact a doctor or emergency service straight away. Symptoms of an overdose include chest pain, a fever or an irregular heartbeat.
You should not stop taking Liothyronine tablets unless you are specifically told to by a doctor or prescriber. These tablets are for long term use and you should continue to take them for as long as advised.
Side effects & precautions
Before taking Liothyronine, you should always first consult your doctor. You should not take Cerazette if any of the following apply to you:
if you are allergic to Liothyronine or any of the other ingredients of this medicine 

if you suffer from an overactive thyroid gland that produces too much thyroid hormone (thyrotoxicosis)

if you have any condition that affects your heart or circulation
Your prescription of Liothyronine may also be affected by a number of other factors, so you should make your doctor aware if any of the following apply:
if you have suffered with an underactive thyroid gland for a long time

if you suffer from heart problems including angina, coronary artery disease or high blood pressure

if you are being treated for diabetes. The dose of your antidiabetic medicine may need to be changed as Liothyronine can raise blood sugar levels 

if you are elderly

if you are pregnant or breastfeeding.
Like many medications with active ingredients, Liothyronine can affect or be affected by other medicines. You should inform your doctor if you are taking any of the following medications:
Anticoagulants (e.g. warfarin) used to thin the blood and prevent blood clots

Anticonvulsants (e.g. carbamazepine or phenytoin) used to prevent fits

Insulin and other treatments for diabetes

Medicines called cardiac glycosides (e.g. digoxin) used to treat heart conditions such as heart failure

Tricyclic antidepressants (e.g. amitriptyline / imipramine) used to treat depression

Colestyramine / colestipol which reduces the level of cholesterol (fats) in the blood

Oral contraceptives ('the pill')

Amiodarone, used to treat irregular heart beats

Barbiturates, used to induce sleep and decrease anxiety

Primidone, used for seizures or fits
All medicines affect individual users differently, so not everyone who uses Liothyronine will experience the possible side effects. However, the most common ones include:
Vomiting (being sick)

Insomnia (sleeplessness)

Fever

Intolerance to heat

Tremor (involuntary, rhythmic muscle movements)

Allergic reactions such as rash, itching, oedema (abnormal accumulation of body fluid)

Angina pain (pain in the chest when exercising)

Irregular, thumping or fast heartbeats

Muscle cramps or weakness

Diarrhoea

Restlessness or excitability

Headache, face and neck redness, sweating

Loss of weight.
If you do experience one or more of these side effects and they persist or worsen, then inform your doctor right away. You should also cease use of Liothyronine immediately and seek medical help immediately if you experience any serious side effects or signs of an allergic reaction.
How do I buy Liothyronine online?
You can safely buy Liothyronine online at UK Meds. You will first need to have an online consultation with a medical doctor before your order will be supplied. The online consultation will ensure that Liothyronine is the right medication for your medical condition.
Here to help you
Our Customer Service is available Monday to Friday 9am - 4pm. If you need urgent assistance, do not use this service. Call 111, or in an emergency call 999. Visit our help section