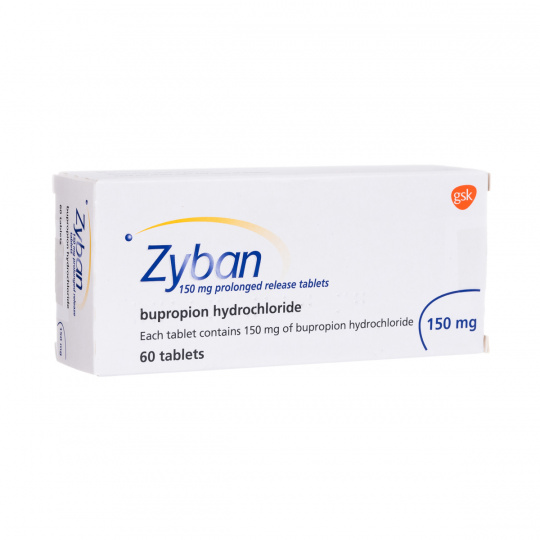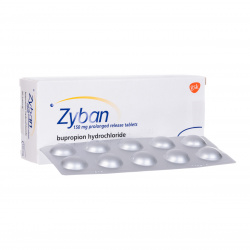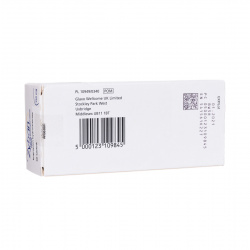 Images for illustrative purposes only
Effective stop smoking medication
Reduces cravings and withdrawal symptoms
Often used alongside nicotine replacements
Genuine medication
All drugs sourced in the UK
Zyban works by impacting the equilibriums of certain chemicals that occur naturally inside the human brain. This prevents the harsh after-effects of smoking withdrawal symptoms and the urge to continue smoking.
to receive your order 6th April
All inclusive service

No hidden fees

Free Tracked Delivery

Discreet packaging

Prescription included

Via our online assessment
Quick & Easy

No appointment or long waiting times

Discreet Packaging

Plain packaging with no medical stamps or marks

Confidential Service

Your information stays with us and private payment

UK Medication

Dispensed by registered UK pharmacists
What is Zyban?
Zyban is a smoking cessation medication. It is classified as a drug belonging to antidepressants. It is used together with proper therapy and counselling as an aid for stopping smoking. It is often used with other nicotine replacement medications. This medicine is available under various brand names and in various forms.
How does Zyban work?
Zyban works by impacting the equilibriums of certain chemicals that occur naturally inside the human brain. This prevents the harsh after-effects of smoking withdrawal symptoms and the urge to continue smoking.
For effective results, this medication must be used in conjunction with an adequate quit smoking program such as counselling or support groups. Zyban helps reduce nicotine withdrawal symptoms such as anxiety, irritability, the urge to smoke, and restlessness.
This drug is categorized as an antidepressant. It is yet to be established how Zyban works in preventing smoking urges among patients. What is clear is the fact that it can help in the restoration of the balance of certain natural occurring chemicals in the human brain.
What are the benefits of Zyban?
Zybanlets are prescribed as a medication to smoke smoking and are effective when combined with some counselling, support, and determination of nicotine dependent users. Stopping smoking reduces the risk for lung and heart diseases, including certain cancers.
How do I use Zyban?
Zybanlets are taken by mouth with a glass full of water, usually two times a day with or without meals. Should the patient get an upset stomach, take Zyban with meals. It is crucial to take your tablets at least 8 hours apart each or as prescribed by your physician to avoid any health risks. One can have trouble sleeping while on the treatment, so avoid taking the tablets very close to bedtime.
When taking Zybanlets do not chew or crush it. Doing so will render the drug ineffective and will increase the risk for other side effects such as seizures. It is important to swallow the tablet and avoid chewing or crushing it.
Oftentimes, the dosage will depend on the medical condition and therapeutic response of the patient. You can increase the dosage as prescribed by your doctor to reduce side effects. Never take more or less of this drug unless advised by the medical doctor. Never attempt to take more than 150 mg in a single dose, and do not take more than 300mg each day.
Zyban dosage
The prescribed dosage to quit smoking with Zyban is 150 mg every day for 3 straight days, then followed up with 150 mg two times a day. One must start taking Zybanlets at least once a week to stop smoking. The overall treatment must last from seven to twelve weeks maximum.
Using multiple doses in a day must be spaced to at least 8 hours span each. It is very crucial that the Zyban be swallowed in its entirety without getting crushed or broken. It can be taken with or without meals.
Side effects and precautions
Side effects from Zyban can range from mild, moderate, to severe. It can also be temporary and or permanent. Consult your doctor if you have any of the side effects listed below. Your nurse, doctor, or pharmacist will be able to help you manage the side effects of Zyban.
Here are the most common side effects of Zyban:
Increased appetite

Muscle or joint pain

Constipation

Dizziness

Nausea

Dry mouth

Trouble concentrating

Trouble sleeping

Weight changes

Vomiting

Stuffy or runny nose
Many of these side effects do not happen very often to patients, and not all are able to experience them. But, do not ignore these side effects as it can lead to something serious. Always seek immediate medical attention.
Zyban is not for you if you:
Have epilepsy or other seizure disorder

Have Bulimia, Anorexia Nervosa, and other eating disorder

Take MAO or monoamine oxidase inhibitor within the past couple of weeks

Have allergies to Zyban or any of its ingredients

Are taking Thioridazine or other Anti-Psychotic drugs in the past two weeks

Have withdrawal issues from Diazepam, Lorazepam, Clonazepam, Alcohol, and other sedatives
Zyban impacts mental and physical capabilities to drive or operate certain machinery. Do not drive, operate any machinery, or perform hazardous tasks while on Zyban.
Zyban will pass into breast milk. Since this medication has some health risks for breastfeeding infants, you must make a decision to discontinue your breastfeeding or to discontinue treatment with Zyban. Ask your doctor for better options.
The safety of Zyban for use by pregnant women has not been established at this point. Doctors and pregnant women must carefully take into consideration the pros and cons of the treatment option. If you want to become pregnant or fear being pregnant, do not take the medication, consult with your nurse, medical doctor, or pharmacist first.
How do I buy Zyban online?
You can safely buy Zyban online at UK Meds, without the need for a prescription or consultation with a medical professional, however you should adhere to the advice given in the patient leaflet enclosed.
More Information
Here to help you
Our Customer Service is available Monday to Friday 9am-5pm. If you need urgent assistance, do not use this service. Call 111, or in an emergency call 999. Visit our help section