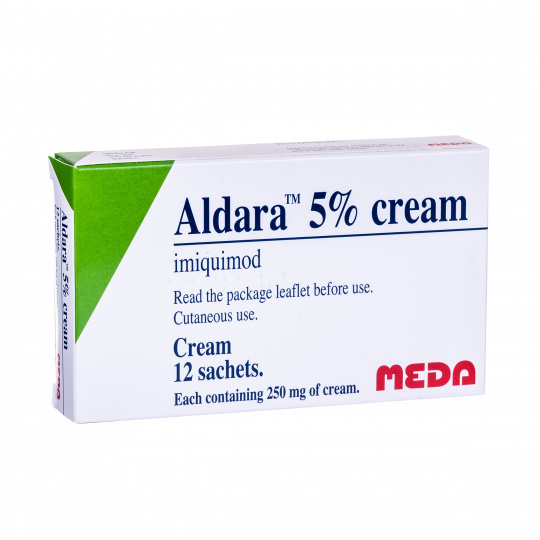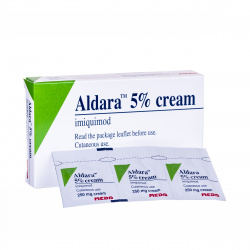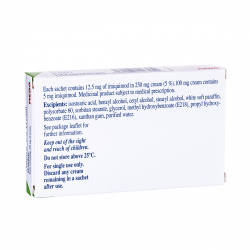 Images for illustrative purposes only
Medicine to treat genital warts
Apply 3 times a week
Highly effective
Genuine medication
All drugs sourced in the UK
When applied directly to the genital warts, this medication works by helping your body's own immune system to produce natural substances which help fight the HPV virus that has caused your warts.
to receive your order tomorrow, 15th July
All inclusive service

No hidden fees

Free Tracked Delivery

Delivered in plain packaging

Prescription included

Via our online consultation
Quick & Easy

No appointment or long waiting times

Discreet Packaging

Plain packaging with no medical stamps or marks

Confidential Service

Your information stays with us and private payment

UK Medication

Dispensed by registered UK pharmacists
What is Aldara?
Aldara is a medicinal cream, used in the treatment of genital warts.
How does Aldara work?
When applied directly to the genital warts, this medication works by helping your body's own immune system to produce natural substances which help fight the HPV virus that has caused your warts.
What are the benefits of taking Aldara?
Part of a group of sexually transmitted infections, Genital warts are caused by a particular strain of HPV. They can cause pain, discomfort and itching and left untreated, can be spread to other people.
Using Aldara to clear genital warts restores health and normality to daily life and sex life.
How do I use Aldara?
Aldara is a prescription-only medication. Always follow the advice of your doctor and read the patient information leaflet provided in the medication packet.
Before applying the cream, wash the affected area with soap and water and then dry well. Open a new sachet and squeeze the cream onto your finger and rub into the affected area until the product has been absorbed. Wash your hands well and dispose of any leftover product. Then leave it for 6-10 hours (overnight) and don't shower or bathe after application.
If you are showing symptoms for or being treated for genital warts then you should not engage in sexual contact with anyone because of the risk of passing it on and spreading the disease.
Aldara dosage
Aldara contains the active ingredient of imiquimod, at a concentration of 12.5mg in 250mg cream.
The standard dose is treatment 3 times a week, until your genital warts have gone. Your warts could disappear in as a little as 4 weeks, but usually treatment lasts for 8 or 12 weeks. However, you should not exceed 16 weeks of treatment.
If you forget to complete your Aldara treatment then simply apply it as soon as you remember. However, this should never be more than once in any given day.
If you use more Aldara than you should, or apply it in the wrong place then you should wash the area with soap and water. If someone happens to ingest some of the cream then contact your nearest doctor or emergency department as soon as possible.
Side effects & precautions
Before taking Aldara, you should always first consult your doctor. You should not take Aldara if any of the following apply to you:
if you are allergic to imiquimod or any of the other ingredients of this medicine
Your prescription of Aldara may also be affected by a number of other factors, so you should make your doctor aware if any of the following apply:
If you have previously used Aldara cream or other similar preparations

if you have problems with your immune system

if you have an abnormal blood count

Do not use Aldara cream until the area to be treated has healed after previous drug or surgical treatment

Do not apply the cream internally

Do not cover the treated area with bandages or other dressings after you have applied Aldara cream
Like many medications with active ingredients, Aldara can affect or be affected by other medicines. You should let your doctor know of any medications (prescription or over the counter) that you are currently taking.
If you have ever had genital warts or are currently being treated for it then you should always practice safe sex by using condoms. If you have genital sores or blisters then you should avoid having sex entirely, until they have been treated.
The most common side effects of using Aldara include:
Redness

wearing away of the skin

flakiness and swelling

Itching or a burning sensation

Headache

pain on intercourse in females

erection difficulties

feeling sick, stomach and bowel symptoms

Tiredness

Dizziness or migraine

bacterial, viral and fungal infections (e.g. cold sores)

vaginal infection including thrush.
If you do experience one or more of these side effects and they persist or worsen, then inform your doctor right away. You should also contact your doctor immediately if you experience any serious side effects.
How do I buy Aldara online?
You can safely buy Aldara online at UK Meds. You will first need to have an online consultation with a medical doctor before your order will be supplied. The online consultation will ensure that Aldara is the right medication for your medical condition.
Here to help you
Our Customer Service is available Monday to Friday 9am - 4pm. If you need urgent assistance, do not use this service. Call 111, or in an emergency call 999. Visit our help section