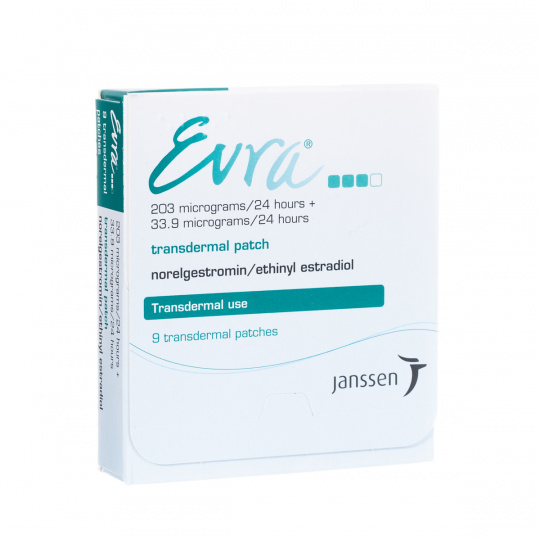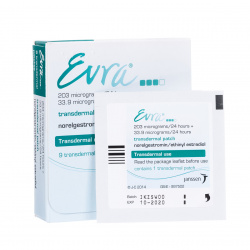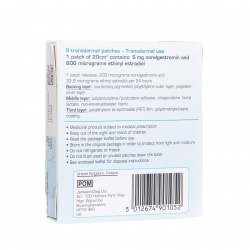 Images for illustrative purposes only
Highly effective contraceptive method
Practical and convenient
Can reduce skin problems and menstrual symptoms
Genuine medication
All drugs sourced in the UK
As a combined hormonal contraceptives (CHCs), EVRA is one of the most reliable reversible methods of contraception (if used correctly). It's also a highly convenient form of contraception, because it doesn't require you to remember to take it on a daily basis.
to receive your order tomorrow, 15th July
All inclusive service

No hidden fees

Free Tracked Delivery

Delivered in plain packaging

Prescription included

Via our online consultation
Quick & Easy

No appointment or long waiting times

Discreet Packaging

Plain packaging with no medical stamps or marks

Confidential Service

Your information stays with us and private payment

UK Medication

Dispensed by registered UK pharmacists
What is EVRA?
EVRA is a contraceptive method used to prevent pregnancy.
How does EVRA work?
EVRA contains two types of sex hormones, a progestogen called norelgestromin and an oestrogen called ethinyl estradiol. Because it contains two hormones, EVRA is called a 'combined hormonal contraceptive', which works mainly by preventing the release of an egg (ovulation) during your menstrual cycle.
What are the benefits of taking EVRA?
Using EVRA provides women with protection against unwanted pregnancies, allowing them more freedom with both their daily lives and sex lives. Because of the hormones it contains, EVRA can also help to regulate a woman's menstrual cycle, or stop symptoms altogether for those who suffer badly.
As a combined hormonal contraceptives (CHCs), EVRA is one of the most reliable reversible methods of contraception (if used properly). It's also a highly convenient form of contraception, because it doesn't require you to remember to take it on a daily basis.
How do I use EVRA?
EVRA is a prescription-only medication. Always follow the advice of your doctor and read the patient information leaflet provided in the medication packet.
The EVRA drug comes as a patch with a sticky side that adheres to your skin. With clean, dry hands, open the foil packet and remove the patch, as well as the clear plastic that covers it. Firmly press the sticky side of the patch on to your skin, on either the abdomen/stomach, buttocks, upper back, or the outside part of your upper arm. Hold for about 10 seconds and then leave it on for exactly 7 days before replacing with a new one using the same method. Repeat this for 3 weeks and then have 7 days with no patch on (for which time you will still be protected against pregnancy).
Always change your EVRA on the same day of each week and never wear the same one for more than 7 days in a row. Only wear one patch at a time and do not cut or tamper with them in any way. Ensure that you apply your patches in a spot where there is no irritation or redness and do not use creams, oils, lotions or makeup in the same spot. To help avoid irritation, try and apply your next patch to a different suitable spot than the previous one.
If you are not using hormonal contraception at present (or in the past month) or are swapping from oral contraceptive, then you should wait for your period to begin and then apply the patch on the first day. If you start your EVRA patch after the first day of your period then you should use additional contraception (non-hormonal, like condoms) until day 8, when you apply the next patch.
The patches are designed to work during normal activities like showering, exercising and using a sauna, however you should just check that the patch has not fallen off after these activities.
For women who have just had a baby, an abortion or miscarriage, your doctor can advise you about using EVRA.
EVRA dosage
Each 20 cm2 EVRA transdermal patch contains 6 mg norelgestromin (NGMN) and 600 micrograms ethinyl estradiol (EE).
Side effects & precautions
Before using EVRA, you should always first consult your doctor. You should not use EVRA if any of the following apply to you:
if you ever had a blood clot in a blood vessel

if you know you have a disorder affecting your blood clotting

if you need an operation or if you are off your feet for a long time

if you have ever had a heart attack or a stroke

if you have ever had angina pectoris

if you have a disease that may increase your risk of a clot in the arteries

if you have ever had a type of migraine called 'migraine with aura'

if you are allergic to norelgestromin, ethinyl estradiol or any of the other ingredients of this medicine

if you have ever been told you might have breast cancer or cancer of the womb, cervix or vagina

if you have ever had liver tumours or a liver disease

if you have unexplained vaginal bleeding

if you have hepatitis C and are taking the medicinal products containing ombitasvir/paritaprevir/ritonavir and dasabuvir

if you are breastfeeding
Your prescription of EVRA may also be affected by a number of other factors, so you should make your doctor aware if any of the following apply:
if you have Crohn's disease or ulcerative colitis (chronic inflammatory bowel disease)

if you have SLE (systemic lupus erythematosus)

if you have haemolytic uraemic syndrome (a disorder of blood clotting)

if you have sickle cell anaemia (an inherited disease of the red blood cells)

if you have elevated levels of fat in the blood

if you need an operation, or you are off your feet for a long time

if you have just given birth

if you have an inflammation in the veins under the skin

if you have varicose veins.
Like many medications with active ingredients, EVRA can affect or be affected by other medicines. Some medicines can have an influence on the blood levels of EVRA, can make it less effective in preventing pregnancy and can cause unexpected bleeding. Particular medications that you may experience this with are:
treatments for HIV/AIDS and Hepatitis C virus infections

treatments for infection (such as rifampicin and griseofulvin)

treatments for seizures

treatments for high blood pressure

St. John's wort (a herbal therapy used for depression)

medicines containing ciclosporin

treatments for epilepsy
If you are taking medication to treat any of the above conditions, then you should make your doctor aware so that they can advise whether or not EVRA will be the best course of action for you.
Breast cancer has been found slightly more often in women who take hormonal contraceptives than in women of the same age who do not. If women stop taking them, this reduces the risk, so that 10 years after stopping, the risk is the same as for women who have never taken it. Either way, you should check your breasts regularly and notify your doctor if you notice any lumps or changes.
Deep venous thrombosis is a rare occurrence. It can develop whether or not you are taking hormonal contraceptives, however, the risk is higher for those who are taking it. You should notify your doctor immediately if you notice any signs of development.
The most common side effects of EVRA include:
Headache

Stomach problems (nausea, stomach ache, vomiting, bloating)

Breast tenderness or pain

Vaginal yeast infection, thrush

Mood problems such as depression, change in mood or mood swings, anxiety, crying

Dizziness

Migraine

Acne, skin rash, skin itching or skin irritation

Changes in menstrual bleeding pattern, uterine cramps, painful periods, vaginal discharge

Weight gain.
If you do experience one or more of these side effects and they persist or worsen, then inform your doctor right away. You should also contact your doctor immediately if you experience any serious side effects.
How do I buy EVRA online?
You can safely buy EVRA online at UK Meds. You will first need to have an online consultation with a medical doctor before your order will be supplied. The online consultation will ensure that EVRA is the right medication for your medical condition.
Here to help you
Our Customer Service is available Monday to Friday 9am - 4pm. If you need urgent assistance, do not use this service. Call 111, or in an emergency call 999. Visit our help section