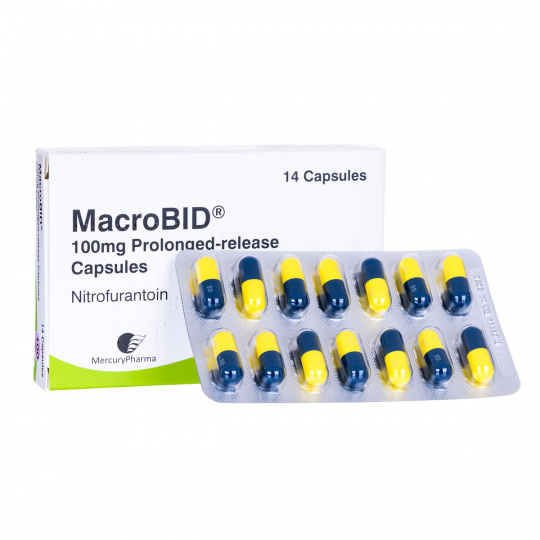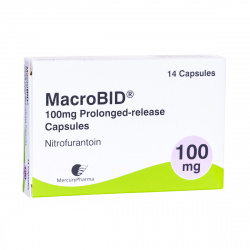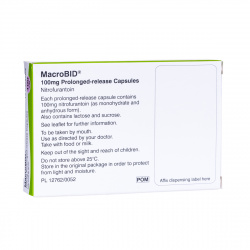 Images for illustrative purposes only
Relieves UTI symptoms
Cures the infection
Works within days
Genuine medication
All drugs sourced in the UK
Nitrofurantoin (the active ingredient) is an antibiotic, used to prevent and treat infections of the bladder, kidney and other parts of the urinary tract.
to receive your order Wednesday 15th July
All inclusive service

No hidden fees

Free Tracked Delivery

Delivered in plain packaging

Prescription included

Via our online consultation
Quick & Easy

No appointment or long waiting times

Discreet Packaging

Plain packaging with no medical stamps or marks

Confidential Service

Your information stays with us and private payment

UK Medication

Dispensed by registered UK pharmacists
What is Nitrofurantoin?
Nitrofurantoin (the active ingredient) is an antibiotic, used to prevent and treat infections of the bladder, kidney and other parts of the urinary tract.
How does Nitrofurantoin work?
High levels of nitrofurantoin get filtered out of the blood and into the urine by your kidneys. This puts the medicine right among the bacteria that are causing the infection, and then kills them.
What are the benefits of taking Nitrofurantoin?
Infections of the bladder, kidneys and urinary tract can be painful and extremely uncomfortable. Treating these infections with a simple course of antibiotics will get you feeling healthy and happy again.
By opting for a drug that's specifically tailored to target the bacteria at its source, Nitrofurantoin provides a much more efficient and effective treatment than other antibiotics.
How do I use Nitrofurantoin?
Nitrofurantoin is a prescription-only medication. Always follow the advice of your doctor and read the patient information leaflet provided in the medication packet. Take the tablets orally by swallowing whole at meal times with food or milk. This will help to avoid stomach upset and also to help the absorption.
The dosage will depend on your age, as well as the type of treatment that you need, which can be advised by your doctor. However, it is important that you finish the prescribed course of treatment, even if you start to feel better or your symptoms clear before its end.
Nitrofurantoin dosage
Nitrofurantoin tablets come in various sizes (most popular being 50mg and 100mg) which all contain the active antibiotic.
The normal dose for adults depends on the type of infection you have and users should consult their doctor for guidance. Normal doses would be either one 50mg or one 100mg four times a day for seven days to treat infections. To prevent further infections, normal dose would be one 50mg or 100mg tablet at bedtime. For prevention of infections during surgery, normal doses would be one 50mg tablet four times a day on the day of the operation and three days after.
This medication is also suitable for children and again, your doctor will advise of the dosage, based largely on age.
If you take more Nitrofurantoin tablets than you should, you should contact your doctor immediately. If you forget to take a dose then do not worry; if you remember on the same day then take that day's dose as usual. If you miss a whole day, simply resume taking it normally and don't double up to make up for the day before.
Side effects & precautions
Before taking Nitrofurantoin, you should always first consult your doctor. You should not take Nitrofurantoin if any of the following apply to you:
you are allergic to nitrofurantoin or any of the other ingredients in this medicine

you have a disease of the kidneys

you are in the final stages of pregnancy (labour or delivery)

you have porphyria (blood disorder)

you have G6PD (glucose-6-phosphate dehydrogenase) deficiency

infants under three months of age

you are breastfeeding a baby with suspected or known deficiency in an enzyme called G6PD (glucose-6-phosphate-dehydrogenase)
Your prescription of Nitrofurantoin may also be affected by a number of other factors, so you should make your doctor aware if any of the following apply:
you have diabetes

you are suffering from any illness causing severe weakness

you have anaemia or a lack of vitamin B

you lack an enzyme called glucose-6-phosphate-dehydrogenase

you have any disease of the lungs, liver or nervous system.

you have false positive results on testing your urine for glucose

your urine is dark yellow or brown coloured.
Like many medications with active ingredients, Nitrofurantoin can affect or be affected by other medicines. Particular medications that you may experience this with include the following:
Antacids for indigestion (e.g. magnesium trisilicate)

Medicines for gout (e.g. probenecid or sulfinpyrazone)

Medicines which slow the passage of food through the stomach

Medicines for raised pressure in the eye (glaucoma)

anhydrase inhibitors (e.g. acetazolamide)

Medicines which make the urine less acid

Medicines for infections, known as quinolones

Typhoid vaccine
If you are taking any of the above medications, then you should make your doctor aware so that they can advise whether or not Nitrofurantoin will be the best course of action for you.
The most common side effects of using Nitrofurantoin include:
Feeling sick (nausea) and headache

Loose stools

Loss of appetite, stomach ache and being sick (vomiting)

Dizziness, drowsiness

A variety of skin rashes or reactions

Short-term hair loss
If you do experience one or more of these side effects and they persist or worsen, then inform your doctor right away. You should also contact your doctor immediately if you experience any serious side effects, such as sudden wheeziness, difficulty breathing, or swelling of the face.
How do I buy Nitrofurantoin online?
You can safely buy Nitrofurantoin online at UK Meds. You will first need to have an online consultation with a medical doctor before your order will be supplied. The online consultation will ensure that Nitrofurantoin is the right medication for your medical condition.
Here to help you
Our Customer Service is available Monday to Friday 9am - 4pm. If you need urgent assistance, do not use this service. Call 111, or in an emergency call 999. Visit our help section