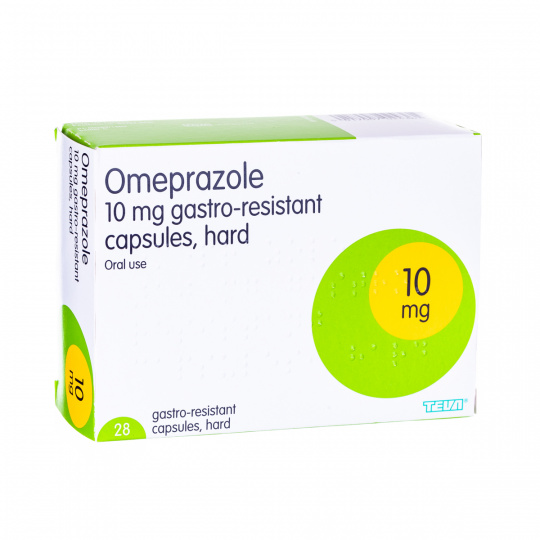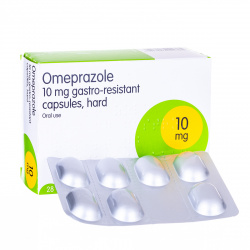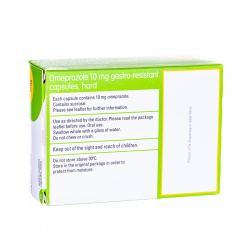 Images for illustrative purposes only
Reduces the amount of acid in your stomach
Easy-to-take capsule
Fast acting
Genuine medication
All drugs sourced in the UK
Omeprazole is a proton pump inhibitor (PPI) that reduces the amount of acid produced in the stomach. The drug is often prescribed for acid reflux and is available in 10mg, 20mg and 40mg capsules to be taken once per day.
to receive your order tomorrow, 23rd January
All inclusive service

No hidden fees

Free Tracked Delivery

Delivered in plain packaging

Prescription included

Via our online consultation
Quick & Easy

No appointment or long waiting times

Discreet Packaging

Plain packaging with no medical stamps or marks

Confidential Service

Your information stays with us and private payment

UK Medication

Dispensed by registered UK pharmacists
Omeprazole
Omeprazole is used to treat certain stomach and esophagus problems (such as acid reflux, ulcers). It works by decreasing the amount of acid your stomach makes. It relieves symptoms such as heartburn, difficulty swallowing, and persistent cough. This medication helpbus heal acid damage to the stomach and esophagus, helps prevent ulcers, and may help prevent cancer of the esophagus. Omeprazole belongs to a class of drugs known as proton pump inhibitors (PPIs).
You can get omeprazole 10mg tablets and capsules from pharmacies. They're the same as omeprazole 10mg tablets and capsules you get on prescription, but they're meant to be taken only by adults and only for up to 4 weeks. Higher doses of are only available on prescription.
Omeprazole oral capsule is a prescription drug that's only available in a generic form. It doesn't have a brand-name version. Omeprazole is also available as an oral suspension and comes as an over-the-counter (OTC) medication.
Omeprazole is a PPI medication. It is a class of drug that is known as proton pump inhibitors. This medicine reduces acid in the stomach and is commonly used for the treatment of indigestion, acid reflux, and heartburn. Omeprazole is widely taken to treat stomach ulcers too. You can buy Omeprazole in liquid, capsule, and tablet form.
Omeprazole works by decreasing the amount of acid your stomach produces. It does this by blocking a system in the cells of your stomach called the proton pump. The proton pump works in the final step of acid production. When the proton pump is blocked, your stomach makes less acid. This can help decrease your symptoms.
Omeprazole works by effectively reducing the level of acidity and the amount of acid produced inside the stomach. It works by blocking certain systems in the cell walls of the stomach referred to as proton pump. The process impacts the final stages of acid production. Whenever the proton pump is effectively blocked, the stomach creates lesser acid. This helps acid reflux, hyperacidity, and certain ulcers.
Stomach pain can be debilitating and it precludes one from performing daily tasks. This is where the drug Omeprazole comes in handy. It helps reduce acidity levels inside the stomach enabling lesser symptoms and pain for patients. Once treated, they are back to their daily activities in no time.
The regular dosage of an Omeprazole tablet is 20 mg. It is also available as an over-the-counter medication by the name of Prilosec. Prilosec 20 mg can be sold OTC at pharmacies across the UK. It is available via over-the-counter and through doctor's prescription. Dosage must be followed according only to doctors' advice. It is important to follow doctors' advice on this as different condition may require different dosage.
It is common to be prescribed capsules at a strength of 40 mg per dosage. It is typically sold as Omeprazole 20 mg tablets. If you are prescribed for a 40 mg dose, simply take two 20 mg capsules. We have Omeprazole for sale here at UK Meds.
Omeprazole, sold under the brand names Prilosec and Losec among others, is a medication used in the treatment of gastroesophageal reflux disease, peptic ulcer disease, and Zollinger–Ellison syndrome. It is also used to prevent upper gastrointestinal bleeding in people who are at high risk.
| Omeprazole Tablets | Omeprazole |
| --- | --- |
| Omeprazole Capsules 20mg | Omeprazole Boots |
| Omeprazole 40mg | Omeprazole 10mg |
| Omeprazole Over The Counter | Omeprazole 10mg |
| Omeprazole OTC UK | Omeprazole UK |
| Omeprazole Online | Omeprazole Amazon UK |
More Information
Here to help you
Our Customer Service is available Monday to Friday 9am - 4pm. If you need urgent assistance, do not use this service. Call 111, or in an emergency call 999. Visit our help section