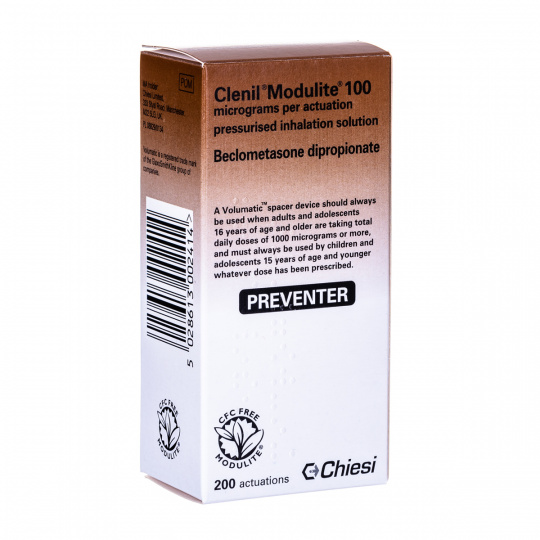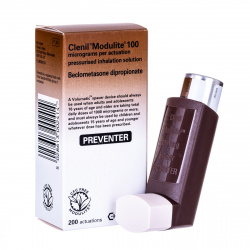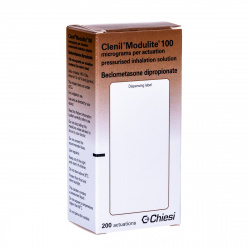 Images for illustrative purposes only
Intended for long-term use
Reduces inflammation in the lungs
Prevents attacks of breathlessness
Genuine medication
All drugs sourced in the UK
Clenil Modulite is classified as a preventer inhaler. It is usually prescribed to people who are in need of a reliever inhaler more than twice a week for the relief of breathing difficulties.
Please note that we are currently limiting Clenil Modulite orders to one inhaler per person, to ensure everyone is able to get the medication they require.
to receive your order tomorrow, 6th August
All inclusive service

No hidden fees

Free Tracked Delivery

Delivered in plain packaging

Prescription included

Via our online consultation
Quick & Easy

No appointment or long waiting times

Discreet Packaging

Plain packaging with no medical stamps or marks

Confidential Service

Your information stays with us and private payment

UK Medication

Dispensed by registered UK pharmacists
What is Clenil Modulite?
Clenil Modulite is classified as a preventer inhaler. It is usually prescribed to people who are in need of a reliever inhaler more than twice a week for the relief of breathing difficulties. It is also prescribed for asthma sufferers whose sleep has been disturbed more than once a week. Clenil Modulite is used regularly on a daily basis to reduce the inflammation of the lungs and prevent shortness of breath, wheezing, and asthma attacks.
Breathing usually improves between three to seven days after starting the treatment. It is important that you keep using this inhaler regularly even if asthma symptoms have improved significantly. It will prevent breathing problems from coming back.
How does Clenil Modulite work?
Clenil Modulite inhaler contains beclometasone as its active ingredient. Beclometasone is a corticosteroid.
Corticosteroids are hormones naturally produced by the adrenal glands. They are important in controlling inflammatory responses. Beclometasone is a man-made derivate of these natural hormones. It is used to reduce inflammation in the lungs.
When beclometasone is breathed in, it is absorbed into the cells of the airways and the lungs, stopping the cells from releasing chemicals that cause immune and allergic responses that result in inflammation. By stopping the release of the chemicals, beclometasone reduces the inflammation in the lungs that constricts the airways, making it difficult for the air to get in and out. Regular use of beclometasone helps in preventing the attacks of asthma and wheezing.
What are the benefits of using Clenil Modulite?
It is difficult to control asthma attacks once they occur and you may worry about inducing an asthma attack when doing exercise or during your stressful periods. Using beclometasone every day can avoid the symptoms of asthma even before they occur and help you lead a normal life. Clenil Modulite can also be used in conjunction with reliever treatments in the occasion of an unexpected attack.
How do I use Clenil Modulite?
Clenil Modulite inhaler should be used twice a day each day on a regular basis, as directed by your doctor. Strictly follow the instructions of your doctor on how to properly use your inhaler and how many puffs you need to take each time. Do not suddenly stop the use of this inhaler, even if your symptoms have improved or disappeared, unless ordered by your doctor. Abruptly stopping treatment could cause your asthma to flare-up again.
If you are using a reliever inhaler at the same time you are using Clenil Modulite, use the reliever inhaler first to open your airways before you take a dose from Clenil Modulite inhaler.
It is important you learn how to correctly use your inhaler. Failure to do so will result in not breathing the right dose of medicine into your lungs. Follow the instructions provided for in the information leaflet that comes with your inhaler.  Your doctor or your nurse could show you the proper use of this inhaler.
Clenil Modulite is a metered dose inhaler, delivering the medicine as a fine mist or spray. You can coordinate the pressing down of the canister and breathing in the spray with this inhaler.
Rinse your mouth with water or brush your teeth after each use of the Clenil Modulite. This will minimize the developing of oral thrush, a fungal infection, in your mouth. Oral thrush could be associated with inhaled corticosteroids. Consult your doctor if you developed white patches in your throat or mouth, as they are the symptoms of thrush.
Clenil Modulite dosage
The usual dose of Clenil Modulite is twice a day, daily, or as directed by your doctor. Do not increase or decrease the dose of your medication without the approval of your doctor.
Side effects & precautions
Medicines and their side effects can affect individual users in different ways. Not everyone who uses Clenil Modulite will experience the possible side effects.
The following is the very common side effect of Clenil Modulite:
Thrush infection of the mouth and throat. This side effect can be avoided by rinsing the mouth out with water and spitting it out right after you use inhaler. Your doctor can prescribe an antifungal medication when you get oral thrush.
The following are the common side effects of Clenil Modulite:
Hoarse voice

Throat irritation
The following individuals need extra monitoring while they are using Clenil Modulite:
Those with history of tuberculosis

Those with viral or fungal infections in the airways.
Clenil Modulite should not be used by individuals who are allergic or intolerant to any of the ingredients of this medicine. Check the ingredients of this medicine to find out if you have specific allergies or intolerances.
It is important to control asthma during pregnancy, as it could pose a threat to the developing baby. Whenever possible, asthma medication should be taken by inhaler to minimise the number of medicines entering the bloodstream and crosses the placenta the developing baby.
The amount of medicine that passes into the breastmilk after an inhaler use is negligible and will not likely cause any harm to the nursing infant.
You could continue using Clenil Modulite while you are pregnant or breastfeeding as long as you inform your doctor.
It is important that you share with your doctor a list of all medications that you are taking before you start using Clenil Modulite. Inform your doctor that you are using Clenil Modulite before you start using any other medication.
How do I buy Clenil Modulite online?
You can safely buy Clenil Modulite online at UK Meds. You will need first to have an online consultation with a medical doctor before your order will be supplied. The online consultation will ensure that Clenil Modulite is the right medication for your medical condition.
Here to help you
Our Customer Service is available Monday to Friday 9am - 4pm. If you need urgent assistance, do not use this service. Call 111, or in an emergency call 999. Visit our help section