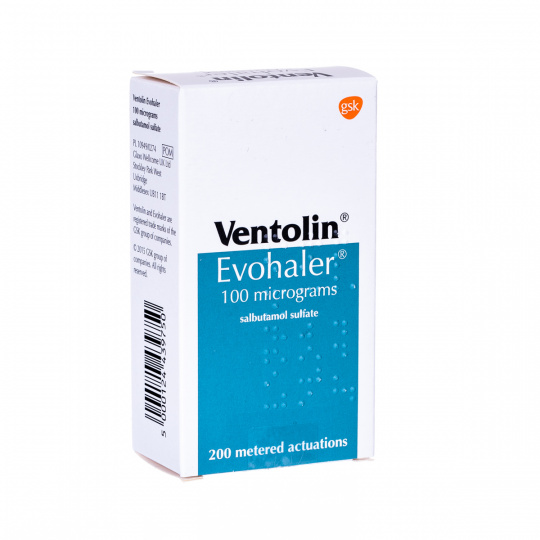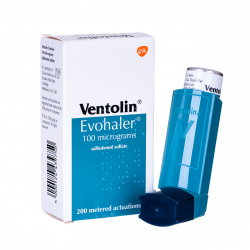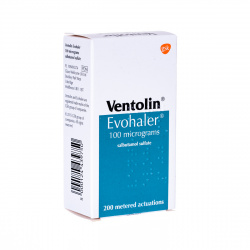 Images for illustrative purposes only
Fast acting relief from breathing problems
Opens breathing passages
Used to treat asthma and COPD
Genuine medication
All drugs sourced in the UK
Ventolin asthma inhaler is typically used to relieve asthma attacks or when the patient is experiencing difficulty in breathing. It contains the active ingredient Salbutamol which is fast-acting and is effective for treating symptoms of asthma. When inhaled, the drug relaxes the airways of the lungs which allows the person to breathe easier thus alleviating an acute asthmatic episode.
to receive your order 31st March
All inclusive service

No hidden fees

Free Tracked Delivery

Discreet packaging

Prescription included

Via our online assessment
Quick & Easy

No appointment or long waiting times

Discreet Packaging

Plain packaging with no medical stamps or marks

Confidential Service

Your information stays with us and private payment

UK Medication

Dispensed by registered UK pharmacists
Ventolin Inhaler
Ventolin is an asthma inhaler, which relieves acute symptoms of asthma. The inhaler contains salbutamol, an active ingredient which reduces the constriction in your airways which causes asthma.
What is the Blue Asthma Inhaler?
Ventolin is a blue inhaler that contains the ingredient Salbutamol. Ventolin inhalers work by opening up the airways, relieving the symptoms of asthma such as breathlessness, wheeze or tight chest. They are therefore known as "relievers". You can buy ventolin inhaler here at UK Meds.
VENTOLIN HFA is an albuterol inhaler that helps relieve bronchospasm and its symptoms. VENTOLIN HFA acts within minutes, and symptom relief should last 4 to 6 hours. Albuterol treats bronchospasm by quickly opening the airways within your lungs to ease breathing during an asthma attack.
What are Salbutamol Inhalers?
The active ingredient in the Ventolin inhaler is a substance called salbutamol, which is also sold as generic medication (which means that it is sold under the name "salbutamol" rather than a brand name).
It is inhaled directly into the lungs and it helps reduce asthma symptoms within five to twenty minutes of inhalation. Salbutamol relaxes the muscles in your airways and opens your airways up, making it easier for you to breathe.
You need to use the Ventolin inhaler when you experience symptoms such as breathing problems, but you can also use it when you know you will be exposed to asthma triggers. This can be the case if you know you will be exposed to something which triggers your allergic asthma (for example: animal hair, dust or pollen). People who suffer from exercise-induced asthma can use a salbutamol inhaler like Ventolin before sport, to prevent symptoms.
The standard dose of salbutamol for relieving symptoms consists of 1-2 puffs (which contains 100-200 micrograms salbutamol).
About Ventolin
What is Ventolin? Ventolin is a blue inhaler that contains the ingredient Salbutamol. It works by opening up the airways, relieving the symptoms of asthma such as breathlessness, wheeze or tight chest. It is therefore known as a "reliever".
Ventolin contains the active ingredient Salbutamol Sulphate and is used in the treatment of Asthma. It is the common blue reliever inhaler used by asthma sufferers. The Evohaler contains 100ug of Salbutamol, a quick-acting drug that helps stops an asthma attack when it occurs.
| Buy Ventolin Inhaler | Asthma Inhalers Online |
| --- | --- |
| Salbutamol Inhaler UK | Asthma Inhaler UK |
| Salbutamol Inhaler Online | Asthma Inhaler Online |
Ventolin inhalers belong to the class of short-acting bronchodilators that help people with breathing difficulties open up airways for immediate relief from shortness of breath or wheezing. It is referred to as rescue inhaler because it can immediately stop asthma attacks.
What is a Ventolin Inhaler?
It is a bronchodilator that is usually prescribed to patients with asthma and other breathing problems. It is typically used only as needed, unlike long-acting bronchodilators that are used every day in controlling asthma and providing relief to other breathing problems.
How does it work?
Ventolin, just like other bronchodilators, works by relaxing the lung muscles to allow the airways to widen and make breathing a lot easier. It can also help clear mucus and reduce the inflammation in the lungs.
Using it can relieve the symptoms of asthma and other breathing problems. Its use can also prevent the onset of asthma for patients who are involved in physical activities that normally trigger asthma attacks. It must be used only when prescribed by a doctor.
What is the Blue Asthma Inhaler?
The Ventolin inhaler comes in a blue case. Many people call it the "blue inhaler" for asthma. If you are searching for the blue asthma inhaler, we have it here at UK Meds. We can overnight ship Ventolin most nights of the week.
How do I use it?
Use according to the instructions of your doctor who prescribed it. Do not increase or decrease the dosage or use it longer than what is recommended by the doctor. Users must follow exactly the instructions on the prescription label. You should use it only according to the prescribed dose. If you have your doubts about using this medication, discuss it with your doctor.
It can be used either by an inhaler or a nebuliser device. The choice of which device to be used will depend on your doctor. Do not use without the inhaler because it will be difficult to get the correct dose. When using the inhaler, shake the canister well before each spray. Remove the cap off the mouthpiece of the inhaler. Breathe out before putting the mouthpiece into your mouth and closing your lips. Breathe in slowly as you push down on the canister. Put your breathing on hold for about 10 seconds then breathe out slowly.
Where to Buy Ventolin
You can buy the blue inhaler from UK Meds. We sell the blue asthma inhaler above. We have overnight shipping of Ventolin most days of the week. If you have a prescription for Ventolin, we can fill it for you. If you do not, our online doctor service can get you started in the right direction. If you are from Germany and wish to purchase a ventolin inhaler, please visit DeutscheMedz.
When the prescription calls for more than one inhalation at a time, you should wait for about one minute before using the second inhalation and remember to shake the inhaler again.
It is important to keep your inhaler dry and clean all the time. Store with the mouthpiece cap. The inhaler must be cleaned at least every week. Remove the canister from the Ventolin inhaler and let warm water run on it for about half a minute. Shake the canister to remove excess water and let it air dry completely before putting the inhaler back together.
What is the dosage for Ventolin?
Ventolin is for inhalation use only. When used to treat or prevent bronchospasm in adults and children over 4 years old, It is to be inhaled every four or six hours. Some patients require only one inhalation every four hours. When used to prevent exercise-induced bronchospasm among adults and children over four years old, It is to be inhaled twice fifteen or thirty minutes before the exercise.
Ventolin needs to be primed before using it for the first time, before using when the inhaler after it was not used for more than two weeks, or when the inhaler is accidentally dropped. Priming is done by releasing four sprays into the air, away from the face of the user, shaking well the canister before each spray. It must be used as prescribed by the doctor. Use it according to the doctor's schedule. If you miss a dose, you should take it the moment you remember. If the schedule of the next dose is close, skip the missed dose and proceed to your regular schedule. Do not take twice the dose to make up for the skipped dose.
Only the person to whom it is prescribed by the doctor must use the inhaler. It must not be shared or offered for use with others. While using, it is important that a patient avoid exposures to allergens or irritants such as pollen, pet dander, moulds, dust, or smoke that may make the breathing problems worse.
More Information
Here to help you
Our Customer Service is available Monday to Friday 9am-5pm. If you need urgent assistance, do not use this service. Call 111, or in an emergency call 999. Visit our help section